Living in New York city is wonderful, but it presents all sorts of challenges when it comes to space. When my husband and I were decorating our loft we had to meld two very similar, yet different aesthetics. We both love the beauty and sleekness of modern Italian furniture and décor, but personally, I like a little touch of glam. Sometimes I wonder if I was a Disco Queen in another life because I'm particularly partial to sequins, metallics, mirrors and platform shoes. In order to get our apartment decorated with the least amount of dissention, we did two things: (1) We hired a decorator,
Ghislaine Viñas
, to help us reign in our ideas (thanks for putting up with us Ghislaine!); and (2) We agreed on the general theme (modern), feel (comfortable) and colors of the space (gray, white and chartruse). We both love aesthetics and have strong opinions about design, so we decided that he would be in charge of the living room/dining room area and I got the bedroom. Who knew that our décor choices would inspire designs in my stationery company,
effie's paper
, a few years later
!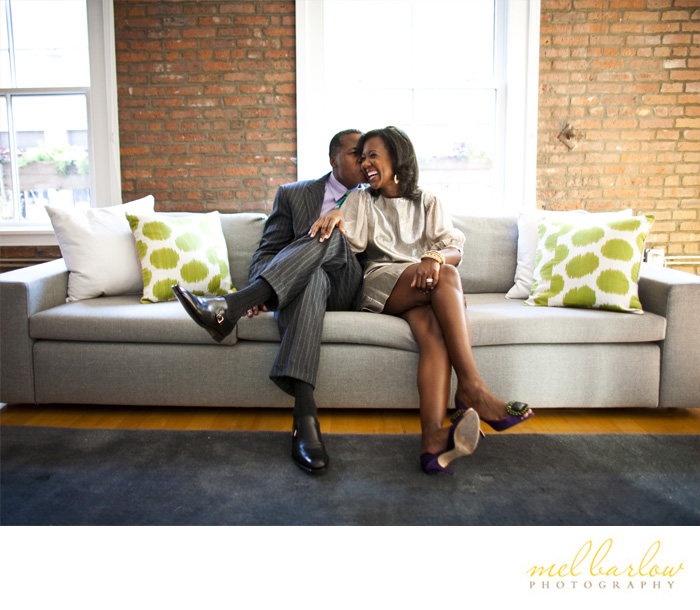 Because we live in a loft space our floor plan is quite open and the living and dining rooms flow into one another. So, we used this 'Bespoke Stripe' fabric designed by
Paul Smith
for Marham, on our dining room bench to bring the two rooms together. We both fell in love with the fabric but for different reasons, my husband loved that charcoal was the dominant color and that it would tie in to our living room well, while I loved Paul Smith's light hearted take on the sartorial. Sir Paul's wit, was the inspiration for a set of cards we're launching this Spring and currently designing called BESPOKE BLOKE which incorporates designs based on men's suit fabric and James Bond-like sayings, "SHAKEN, NOT STIRRED."
Our loft space still has a few brick walls and we've got exposed beams that have been painted high-gloss white. Overall, the apartment still has a bit of an industrial feel, but I wanted the bedroom to have a little touch of glam, so that it would feel more like a boudoir. Our bedroom also has a sitting room, which meant there was a good chunk of space to cover, but there are virtually no ledges or shelves which presented a challenge. To get the feel I wanted, we used fur (faux mink and shearling), suede, velvet, rhinestone and silk pillows, white lacquered furnishings, a mirrored foot board on a suede couch, beautiful Italian lamps and chandeliers as well as wallpaper to transform the bedroom. Ghislaine found this fabulous wallpaper that we used in the entryway from Phillis Morris'
Circa collection
. It's perfect! As soon as she showed it to us, I was hooked. It helped to pull the room together and added just the right touch of glam. It also provided the inspiration for one of the notecards in
THE URBANITE
collection aptly titled,
Step Into My Boudoir
.
It's amazing how inspiring these rooms have been for me! The renovation and decorating project was a great lesson in patience, but I love the outcome and look forward to decorating my dream house one day. I'm sure that experience will inspire a whole new line of stationery products. Stay tuned . . . It's been so much fun to channel my inner interior decorator Tonia - thank you for inviting me to participate in Moonlite Monday!